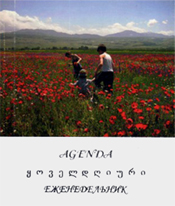 We have published a trilingual multi-annual diary (in Georgian, French, and Russian) made up of:


the Charter text (in Georgian and in Russian)


photos on the theme of the environment,


proverbs, sayings, etc. (Georgian, Kurdish, Armenian, Russian, Azerbaijani, Ossetian, and Abkhazian) on responsibility, the environment, education, etc.
The diaries have been distributed to different organizations and during workshops.
***
We have also published a book: The New Dimensions of Responsibility. It contains some of the articles that have been published by Georgian newspapers, the papers written for the international conference organized at Tbilisi State University, along with the Charter text in Georgian and adaptations of the text in Russian, Armenian, and Azerbaijani.
Contents

1. Ina Ranson
Evolution of Values in Western Culture - Facing Present Crisis of Developement.


2. Anastasia Zakariadze
Georgian Version of Charter of Responsibilities in the Perspective of Traditional Values.


3. Demur Jalagonia
Globalization, Destruction of Ecosystem and Responsibility.


4. Valeri Ramishvili
Global World, Culture and Responsibility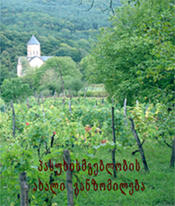 5. Akaki Kulidjanishvili
The Problem of Sustainability and Revaluation of Traditional Values


6. Ketevan Khutsishvili
Traditional Mechanisms of Social Control in Georgia.


7. Nino Gambashidze
Some Ecological Aspects of Worship of Trees in Georgia.


8. Guram Kutelia
Usage of Ecologically Clean Energy as one of the Components of Sustainable Development of Society


9. Elene Shatberashvili
Bio-production ; Perspectives of Sustainable Development of Georgian Agriculture


10. Elene Gogiashvili
Obligation and Responsibility – Human and Environment in Georgian Folklore


11. Tea Kamushadze
Traditional System of Upbringing and Sexual Socialization (on the Example of Eastern Georgian Highland)


12. Mariam Dzagnidze, Irma Chitaladze
The Role of Local Government in Sustainable of Management Water Resources.


13. Irakli Brachuli
Responsibility, Pragmatic Postulate and Institutional Development.


14. Marina Avaliani
Ecological Catastrophes and Human Responsibility in the Frame of Sustainable Development. Emotion, Mind, Desire.


15. Atinat Mamatsashvili, Marina Avaliani
Evolution of the Notion of Responsibility During Centuries in the Context of Features of Different Countries