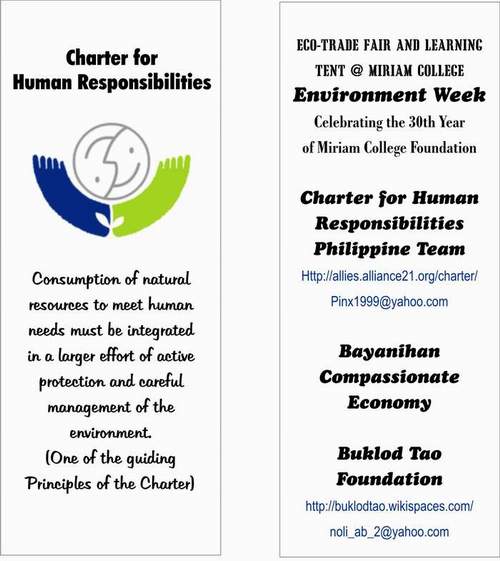 The Charter for Human Responsibilities joined the Eco-Trade Fair Exhibit in Miriam College in Quezon City, Philippines from August 7 to 12, 2006. It was a celebration of Miriam College's 80th anniversary. The exclusive girl's college is one of the prestigious schools putting environmental protection in its curricular and co-curricular agenda.
The Charter Team joined the Bayanihan Compassionate Economy and the Buklod Tao Foundation in putting up the eco-trade fair exhibit.
The Bayanihan Compassionate Economy initiative is an attempt to establish ethical standards of holiness, justice, and love in an alternative economy. Whereas the prevailing world economic order uses available resources to maximize private wealth and make money for those who have money, this initiative aims to employ available resources in order to increase the benefits of society and meet the basic needs of everyone. One of the leaders is Ben Quinones who is an active member of the Solidarity Economy Workshop of the Alliance for a Responsible, Plural and United World. You can refer to the Declaration.
The Buklod Tao Foundation is a local organization of community members in Barangay Banaba, San Mateo, Rizal. It has been in existence for 11 years and is into community disaster management, environmental advocacy and education-empowerment programs. It is another partner of the Charter for Human Responsibilities Philippine Team in diffusing the Charter in the community level. The Foundation is headed by Noli Abinales.
Last August 11 in the Eco-Trade Fair, a discussion on the Charter was held with participants from the Bayanihan Compassionate Economy that included Ben Quinones and Corazon Navarra, Operation Compassion International, an NGO headed by Maria Lourdes Jopson Lagman, Buklod Tao Foundation, and young leaders from Bagong Silangan, Kalookan City. The discussion was facilitated by Pinky Cupino of the Charter for Human Responsibilities Philippine Team.
As a result of the discussion, the Bayanihan Compassionate Economy committted to help disseminate the Charter. In fact, Ben Quinones said that in the upcoming Asian Forum on Solidarity Economy to be held October 2007, the discussion of the Charter of Human Responsibilities shall be one of the major points on the agenda.