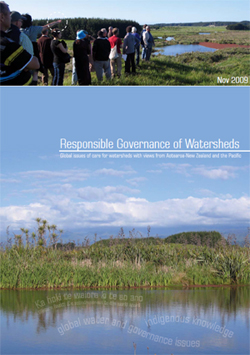 This is a collection of papers from scientists, engineers, indigenous guardians and programme leaders from Vanuatu, Samoa and Aotearoa. Contributions are made from creative writers, lawyers, and esteemed Maori and Samoan leaders articulating indigenous knowledge to the complexity of managing watersheds.
The responsibilities brought to the management of river catchments are varied and range from professional engineering to ecosystem priorities, to policy and legal interpretation to business development and resource harvesting and extraction.
Running through these are issues of indigenous land ownership and oven, the very different priorities and points of view of Maori land holders from those of the private property interests of non-Maori. Maori land, as well as land in Pacific countries is held in collective titles. A major source of tension in the region is the pressure to privatise land - largely to remove impediments to commercial development.
For this assembly we brought together as many of these interest groups as possible - but were not able to include business people. Some of the challenges that emerged were the tension between what are assumed to be the benefits of large infrastructure developments (such as dams), and local land holding groups who want to exercise local authority to assure water quality and fish stocks and the 'life force' of the rivers. In these papers are wonderful knowledge of rivers, their dynamics and proposals for bringing the knowledge into governance. While many issues are local in reference they are of global importance as we are caught up in the challenges of responsibility to ensure the vitality and dynamics of rivers are retained or protected, the pressures of commodification of water resources, and how to keep rivers healthy for fish, land, plants and people.
This collection opens possibility of an ethics of responsibility as a way to mediate differences for the benefit of rivers and to solve conflicts by focussing on the long term well being of waterways and communities. Responsibility can be brought to managing risk and uncertainty where the consequences of decisions and use of technology are not known.
Areas that need further development are the application of responsibility for managing risk and uncertainty where the consequences of decisions and use of technology are not known, and how to develop understanding of public responsibility for the collective consequences of individual private business enterprise, and develop policy and governance systems to give effect to to public responsibility.
Watersheds and Responsible Governance: Aotearoa-New Zealand November 2009