The Conservation Conference was a Pacific Conservation Roundtable meeting to work on the framework for the Pacific Conservation Action Strategy.
KEY MESSAGE
Conservation in the Pacific is integrated with sustainable livelihoods. Land being retained in customary tenure is a key to the link between Livelihoods and Environmental Responsibility.
Pacific Conservation Action Strategy
The Action Strategy is structured around:


Three Goals: Economy, Environmental, Social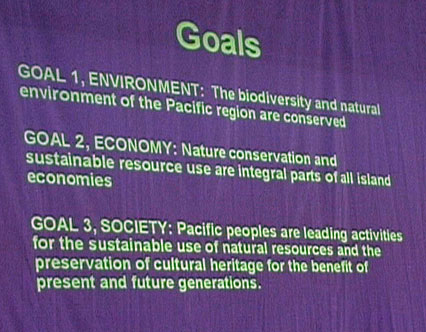 Four Objectives:
Identify, conserve and sustainably manage priority sites, habitats and ecosystems
Protect and recover threatened species or species of ecological, cultural and economic significance
Manage threats to biodiversity, especially climate change impacts and invasive species
Livelihoods and community development are ecologically and economically sustainable
Principles for implementation:
Traditional culture and community values/aspirations
Indigenous property rights
Sustainability of resource use
Financial sustainability
Local capacity building
Good governance
Resilience to climate change
Along with rich and diverse presentations the Conservation conference was a remarkable experience in excellent design through a multi-tiered process, with minimal requirements to make session choices. Side group sessions provided for presentations in particular fields, and cocktail parties every evening!
Key themes
The Pacific is comprised of water ecosystem nations
Village and customary land ownership in the Pacific mean that conservation and livelihoods are inter-related. Sustainability of land and marine resources is immediate and imperative. In the Pacific conservation is integrated with livelihoods. A film presentation showed research on conservation as a means to poverty alleviation.
Responsible governance needs the support of all stakeholders
A number of presenters identified themes of key interest to 'Across Oceania':


Respect and Responsibility are two key themes for Conservation in the Pacific, supported by an approach of humility before the land and before the people.


Communities do not move forward because of lack of resources and educational capacity, particularly to respond to climate change and global mining. For restoration, align traditional knowledge and science for local decision making Need for Cross-sectoral partnerships.


Conservation groups, working with humanitarian values, rather than welfare agencies, have the means to address poverty through sustainable livelihoods.


No site is sustainable as a stand alone venture- sustainability is achieved through collaboration and partnerships.


A landscape approach to governance and management links impacts on ecosystems, thus a need for policy frameworks that correspond with landscape and ecosystem approaches, supported by collaboration amongst stakeholders


Building a coalition of communities in Water Ecosystem nations of the Pacific Strengthen the role of communities in policy design


Set objectives for conservation with strong economic arguments in line with national priorities.


Monitoring the Health of Ecosystems
Conservation actions linked to livelihoods - wellbeing is part of conservation and sustainability
Discussion on measuring that straddles biodiversity and socio-economic indicators. The gap is in socio-economic area.


Need a picture of what wanting to do at National and Regional levels. Use metaphor of car dashboard, with gauge for ecosystems, biodiversity, socio-economic….Audrey Newman. TNC, Hawaii.
Betsan is on the Biodiversity Monitoring Groups to integrate environment and socio-economic indicators.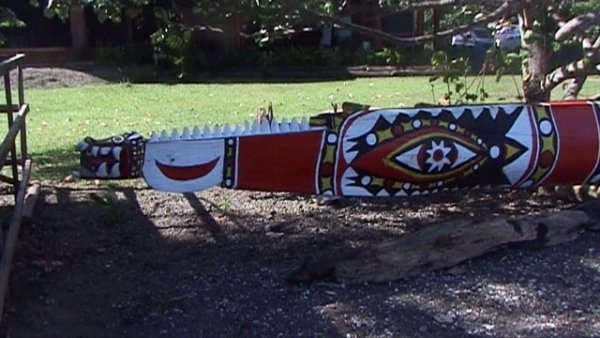 Notes of interest for further action:
Economic value of biodiversity resources
Develop measurement of the economic value of ecosystem services
Three PNG groups requested investigation of Partner projects on RESPONSIBILITY
Pacific: Across Oceania – Governance and Responsibility for Water Ecosystems
a. Project on indicators for economic, social and environmental wellbeing
b. Collaboration on Environmental Education (Madang and Boroko), Mahonia na Dori ).
AS AT JANUARY 2008, MUCH IS EVOLVING, INCLUDING A KOHA-PICD JOINT ACTIVITY WITH PHILIPPINE PARTNERS, FOR ACROSS OCEANIA, SAMOA JAN 2008. PARTICIPANTS AT THE PNG MEETING INVITED TO ACROSS OCEANIA.