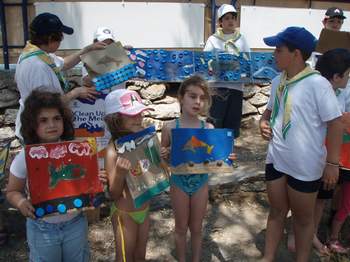 The Clean up the Med initiative is the largest existing volunteer Mediterranean clean-up operation and has been conducted by the Italian organization Legambiente since 1995. The European Charter team is now involved in it, along with more than 500 authorities, parks, schools, and organizations from 22 countries. On May 25, 26 and 27, 2007, waste was removed from more than 1,200 beaches and coast sections, and many public-awareness-raising actions were organized.
On May 27, the European team, in collaboration with the town hall of Posidonia on the island of Syros, Greece, invited citizens, families and schools to join in cleaning up the beaches of Agathopes and Komito, both of which are very popular destinations, in this island of 25,000 inhabitants. A large number of children, but few adults, responded to the call and took part in the operation. In addition to the beach clean-ups, there were discussions on the everyday behavior that affects the quality of the inshore environment and on the responsibility of territorial authorities. An important part of the operation was devoted to an art workshop for the young, based on recycling waste and different materials found on the beaches and facilitated by teachers and artists. The children created works to take home and a collective work to offer the Town hall. The team prepared fliers specially for the event, which presented Mediterranean pollution issues and environmental protection ones, as well as the Charter project. We distributed the fliers during the clean-up operation to those who were swimming at the beach and were watching us, as well as, in the previous days, in public places and to island shopkeepers.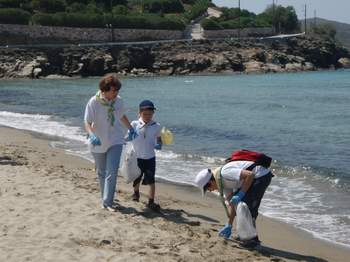 The Clean up the Med operation is a yearly opportunity to raise public awareness and to stimulate thinking on the importance of inshore ecosystems, on the threats currently weighing on the Mediterranean, and on our common responsibility for Mare Nostrum: It is an important moment for sending all citizens a strong environmental message, as well as a message of peace, as illustrated by the cooperation of populations from different countries, of different cultures and religions, united for the protection of the sea.
For further information: Clean up the Med 2007