Asian Film Festival on the Environment
Philippines, 9th - 16th October, 2007

The Charter of Human Responsibilities Facilitation Teams of the Philippines and India have organised, jointly with the World Youth Water Alliance (WYWA, an organisation inspired by the CHR) the "Asian Film Festival on the Environment" between 9th October - 16th October 2007, along with local partners like Buklod Tao Foundation, Eco Waste Management Coalition, Green Peace, Tambuyog & World Wide Fund in Manila, Philippines.
To prepare this event, Pinky Castelo-Cupino and the whole CHR Philippines team, along with Sudha Reddy and John Anugraha, from the CHR Indian Facilitation team, have visited different high schools with films on water and climate change to initiate discussions and debates on issues related to environment and the role of youth to make a difference.

Through this film festival on Environment the objective was to reach the teens and youth of Philippines, to bring awareness in the young minds, to make a difference to the world in their capacity.
Moreover, as they grow, these impressions of films followed by discussions facilitated by Charter Members will remain in their minds and they will take the responsibilities to change the current scenario of issues such as climate change / global warming.
Youth and their responsibility to the Mother Earth – film festival in Asia, October and November 2007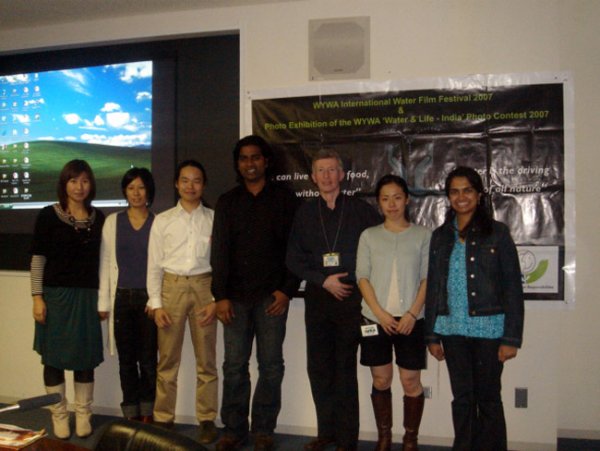 The World Youth Water Alliance is now organising an International travelling film festival on Water and Climate Change in the month of October and November 2007.
After co-organizing, jointly with the CHR-India and Philippines team, the Asian film festival on Environment in Manila, Philippines, between 9-15th October 2007, the WYWA has continued this journey of film screenings with CHR as main organising partners at Beijing University between 21st - 25th October 2007 with the support of local partners in China and the new youth initiave China-India Forum
In the first week of November, WYWA will also be screening films followed by discussions at the United Nations University, Tokyo, Japan and other universities outside Tokyo. This might perhaps be the first Charter of Human Responsibilities introduction and dissemination to the youth and adults in Japan.