Athens 2004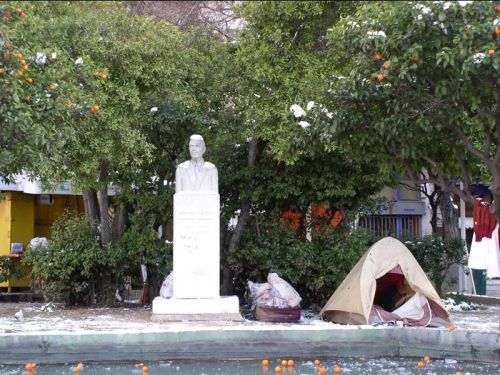 Photographs - Video projection (6 minutes)
Description of work
One year before the Olympic Games in Athens, the whole city had been converted into a construction site, due to the public works of modernization. During this period, I photographed three squares near my house in which works of that type were taking place, recording the transformations.

One of these sites, the Aigyptou square, is a place consisting of islets in the confluence of two avenues, Alexandras and Patision. One of these islets was secured by high aluminum curtains, while, inside, they were building an underground parking lot for 400 cars.

The opposite side of the road seemed to be out of time: a small park with soil and citrus trees, the only relatively contemporary work being a fountain. Beside the statue representing the Mayor of Athens between 1917-1920 and 1922-1927, a young woman had settled into living in a tent.

The life of the megalopolis, moving according to the rhythm of its modernization process and of a far-flung event, coexisted with the daily rounds of this marginal human being, forming the contrasts of the urban environment.
Artist's biography

Niki Kapokaki studied painting in the School of Fine Arts of Thessalonike, in Greece and in the School of Fine Arts of Paris (E.N.S.B.A.). She followed post-graduate studies in the School of Fine Arts of Athens, specializing in "digital art." Her work has been shown in various collective and individual exhibitions in Greece and abroad. Her work is based on psychological and social issues, with different forms such as drawing, installations, videos, photos...
Contact with the artist:
e-mail: nikikapokaki Rmi yahoo.com