Sunday Luncheon on the Lawn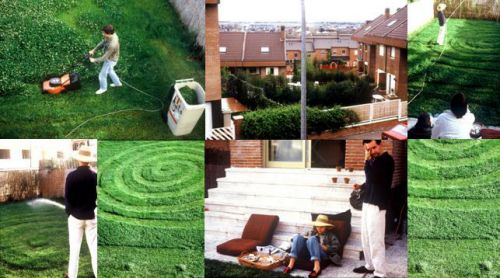 A small garden in calle Ágata 18, Pozuelo de Alarcón, Μadrid, 1991.
Montage with photos, 40X70 cm.
Description of the work
Every little garden constitutes for its owner a small universe. The garden is a fragment of nature which takes its form expressing the personal Utopian paradise of its owner.

This artwork is the elaboration, a second reading of an action that took place one Sunday morning in the garden of a house at 18 Ágata str. at Pozuelo de Alarcón of Madrid in 1991. It is an action in the daily life of the residents of a suburb of Madrid. The housing project was built in the early nineties: identical houses with square empty spaces in their back yards, for the cultivation of small gardens.

The action in the garden created a swirl on the lawn. This movement was in perfect harmony with the recurring spray of water used for the lawns of the neighborhood, which was under construction at the time.

The action carries the mark of a carefree past, nurtured with the Utopia of an idyllic urban life in this suburb - which in 1991 was in full expansion- and today this Utopia of the past seems trivial compared with the emergency of the problems of the environment.

This work is the result of artistic research on the subject of gardens, which began individually and turned collective.
Artist's biography

Vanda Chalyvopoulou was born in 1962, in Kos island, in Greece. She studied in the School of Fine Arts of Athens (1988). She gained a scholarship from the Ministry of Foreign Affairs of Spain, for postgraduate studies in the Facultad de Bellas Artes of the University Complutense in Madrid. She completed her PhD in the same University. She followed courses in painting in the Art Students League, in New York. She followed the "VΙ International Meeting of Contemporary Art" in ARCO of Madrid (lecturers: F.Guatarri, R.Krauss, D.Kuspit, etc.) and the seminar in "Aesthetics of Scultpure in the 20th century", organized by Simón Marchán Fiz, in the Círculo de Bellas Artes of Madrid. She has participated in various individual and collective exhibitions, forums, workshops etc. [she participated in the forum and the international meeting of artists organized by Instituto Pólis, in Sao Paulo, Brazil (2001) and in the '2ª Biennal de la Mediterránia', Museu Marítim, Barcelona (2007)]. She is currently teaching Art in the University of Patras, Greece, in the Department of Architecture. She is a member of the "Spanish-Greek Association of Archipelago" and of the World Network of Artists in Alliance of the "Alliance for a Responsible and United World".
Contact with the artist:
vanhalgr Gtk yahoo.com