Seed of life's tree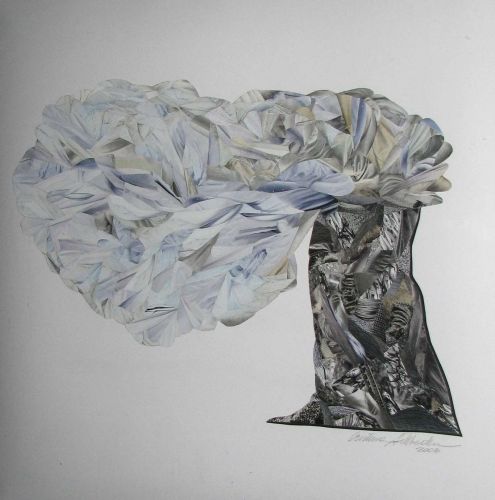 Artist's statement
This is the work I have been doing on paper and white paper.
This work makes me feel a recycler of the images, of the paper and of Nature. I say of Nature because, even though in its congealed form, I am indirectly placing the raw materials in their natural habitat. I must do so, because when I touch paper I can feel the tree.

The tree is the Nature that was turned to paper.
The paper is Nature returning to its first place and essence.
It is the Nature dialectic opposing and reconciling to itself.

I use images of the object pressed in paper, where I cut out textures, saliencies and tones formed by the lights and the shadows.

The paper recycling is done in a visual and figurative way.
Recycling, here, provides Art.
Paper turned to Art.

Through this I show the divine beauty.
The Earth's Sublime.
Artist biography

Cristina Schleder was born in Sao Paulo, Brazil, in 1952. She has studied "Design and Visual Communication". Since 1992, she has started to present her art work in individual shows in places like the Romero Britto Gallery – Miami - USA, as well as in various galleries in Sao Paulo – Brasil. She participated in numerous collective exhibitions in Sao Paulo. She is the author of "A Fênix", a book published in Sao Paulo in 2001.
Contact with the artist:
email : cristinaschleder Xab uol.com.br