Catharsis -
the rubbish and us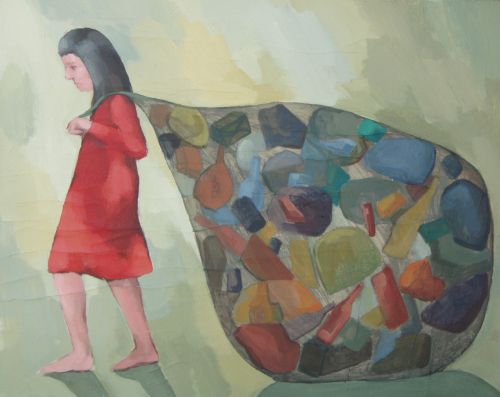 Artist's statement
Excessive production of rubbish has been, for a few years, one of the most important parameters of the environmental crisis. In Europe, alternative methods of rubbish disposal are used, but in Greece, during the last 10 years, the increase in rubbish production has grown 40%.
Only 8% of the rubbish is recycled, while the remaining 92% is disposed in special disposal centers. At the same time, in some cities of Europe the percentage of recycling is much higher, while the percentage of disposed rubbish is almost insignificant. More specifically, every citizen of Greece produces 500 kilos of rubbish every year.
Reducing these quantities depends upon each one of us, through a responsible attitude facing this problem, as well as whatever concrete actions it implies (recycling, reduced use of non recyclable material, etc.).
Artist's biography

Eirini Tsiraki was born in Chania, Greece, in 1980. She studied design at the School of Visual Arts "Choros" in Chania. She followed courses in the Department of Fine Arts of the University of Crete. She studied at the Academy of Fine Arts in Rome, Italy, during 2000-2004, following the courses of professors A. Trotti and C. Baldino. She has presented her work in an individual exhibition at the Visual Arts Laboratory of the Municipality of Chania and she has participated in various collective exhibitions in Italy and in Chania. She currently lives and works in Athens.
Contact with the artist:
Address: Siraggiou 3, Kastella, 18534 Piraeus, Greece
Tel.: 30-697 39 59 048
e-mail: etsirak VPd yahoo.gr