Save THIS planet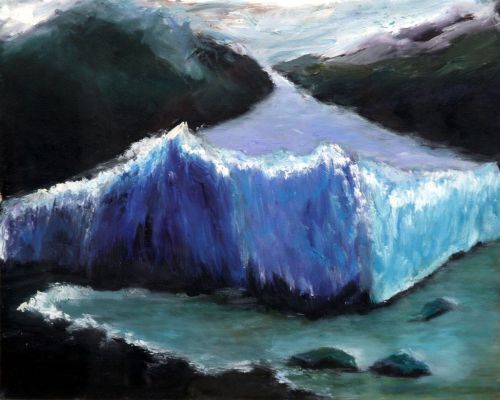 Artist's statement
Personally, painting allows me to express feelings, feelings that churn deep inside, feelings that are waiting, to open up to the light of day, to be born. My ethnic and geographic origins made me nomadic, cosmopolitan, a citizen of everyplace.
Through my wanderings, in my desire to observe everything, to absorb everything, abhorring the exclusion of the wretched people of this earth, the people who roam the planet, equalized by their suffering. The headlines of so many nations' newspapers expressing, in different languages, the same sad news, the silent and dense agony of nature, struggling to survive.
Interpreting colours and shadows, figurative or landscape, images and sensations that pain, touch, mobilize me in order to express my protest against the suffering of the so many who don't have a voice to be heard: against the destruction of nature's resources, who don't have hands, brush and canvas to portray their slow and painful death.
That is what needs to be done, needs to be done in order not to perish. Τhat is my way of shouting to people to reflect, my way of contributing towards construction of a more just world, more solid, more beautiful, more gentle, more human.
Artist's biography

The artist Inna Cymlich Janse, native of Australia, has studied Fine Arts and Art History in the Royal Melbourne Institute of Technology in Australia, Photography/ Photojournalism/ History of Photography, in the International Center of Photography, and Contemporary American Art in the Twentieth Century Contemporary Art New School in New York / USA. She has participated in numerous collective exhibitions in Sao Paulo, Brazil, in Paris, France, in Sydney, Australia and elsewhere. Her late individual exhibition was organized in 2006, in the Brazilian Museum of Sculpture and Art in Sao Paulo, Brazil. Her paintings can be found in various private and public collections in the USA (New York, Boston and Philadelphia), in Australia (in Sydney and Melbourne), in Europe (Athens, Amsterdam, Hamburg and Rome), in Latin America (Sao Paulo, Rio de Janeiro, Santiago, Bogotá).
Contact with the artist:
e-mail: benina50 voZ hotmail.com