The colors of life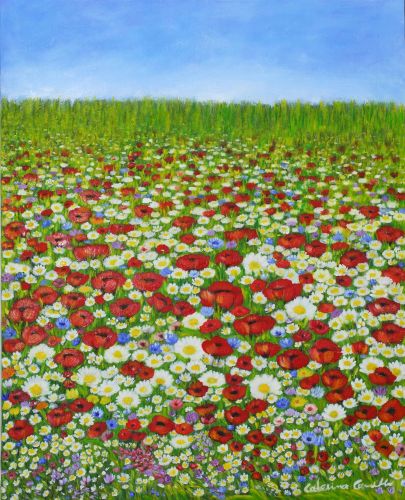 _ 2006, Painting oil, 80 x 65 cm
About the painting
Whatever I paint is an escape to a dreamland, a proposal for happiness that comes out of the colorful liveliness and the beauty of the natural landscape.
In my work, the blooming landscapes, the luminous blue of the horizon, constitute the sanctuary where the soul nestles, tired by a polluting routine, that moves into the problematical and repulsive natural environment of our times.
Even if an artist cannot change the natural environment, which is disfigured by human vanity and greed, he can however dream of it, reconstitute its lost balance; represent notional or attainable forms that Nature is hiding. The artist can make people remember the beauty that, although simple, tends to look imaginary, as humankind continues to destroy it.
Artist biography

Caterina Canellis was born in 1945 in Athens. She grew up and was educated in Greece but before she was 20, she left and got married in Paris. There she started a late career in painting. She has followed courses in the "Ecole des Beaux-Arts" but she is mainly self-taught. During the last 20 years, the public has had many opportunities to see her work in places like Paris, Brussels, Istanbul, Luxembourg, Athens, Hydra, Poros… She is currently living in Athens where she exhibits in galleries. Her work is manifold, and it varies as far as it concerns the themes of flowers and the nude, and also her technique varies – from realism to expressionism, making naturalism and popular painting a deep unity.
Her website is www.caterinacanellis.com.
Contact with the artist:
e-mail: isab 3Ua hol.gr