The United States Social Forum brought more than 10,000 social justice activists to Atlanta, Georgia June 27-July 1, 2007 for workshops, strategy sessions, networking, a film festival, and other cultural events. Intended to be "more than a conference, more than a networking bonanza, more than a reaction to war and repression," the first US Social Forum was organized with a commitment to "send a message to other people's movements around the world that there is an active movement in the US opposing US Policies at home and abroad." (from the USSF Website )
Atlanta was chosen as the host city for the USSF because of the significance of the US South in our nation's history of oppression and resistance:
"The roots of oppression, injustice, exploitation and social control run deep in Southern soil. The US South has also cultivated determined and consistent fights for indigenous self-determination, black freedom, working class emancipation, and human liberation. Hosting the US Social Forum in the US South builds political potency for a powerful movement to challenge white supremacy, imperial domination, worldwide genocide, ecocide, and all other manifestations of global capitalism." (from the USSF Website)
The Forum began with an afternoon march through the center of Atlanta's downtown business district. Organizations marched with banners, puppets, posters, and musical instruments.
More than 900 workshops using popular education, cultural work, small group discussions, film, and hands-on activities addressed an incredible range of topics. The workshops were organized in the Forum program into categories: agriculture, food and land; community; culture, media and communication; economy; education; environmental justice; globalization and international trade; health; immigration; imperialism; indigenous issues; labor and worker rights; lesbian, gay, bisexual and transgendered issues; militarization and war and peace; movement building; politics and democracy; poverty; prisons, police, courts and transformative justice; race and class; religion and spirituality; human and other rights; social and public service; urban issues; women and gender justice; youth, age and families.
Six plenary sessions (on Gulf Coast Reconstruction in the Post-Katrina Era; War, Militarism and the Prison Industrial Complex; Indigenous Voices: From the Heart of Mother Earth; Immigrant Rights; Liberating Gender & Sexuality: Integrating Gender and Sexual Justice Across our Movements; and Workers' Rights in the Global Economy) were composed of activists who offered multiple perspectives on pressing issues, analyses that linked the issues, and inspiring examples of strategies and actions.
USSF organizers made public their commitments to place priority on groups doing grassroots organizing with working class people of color, to ensure the voices of indigenous peoples would be heard, to make possible full and equal participation of undocumented migrants and their communities, and to link US-based youth organizers, activists, and cultural workers to the struggles of their brothers and sisters abroad. (see https://www.ussf2007.org/en/we_believe )
Many in attendance remarked about the large number of youth leaders present and how important they are for the future of social movements in the US. Also notable was the absence of keynote speakers from national NGOs and foundations.
USSF events took place all over the city, with the plenaries and Solidarity Tents located at the Civic Center. Solidarity Tents were places to meet, talk with and learn about Native Americans; Africa; Youth; Democracy; The People's Freedom and Solidarity Movement; Health, Healing and Environmental Justice; Nahr Al-Bared Palestine; Tent of the Americas: North-South; Peace & Justice; Dreams & Nightmares (a photo exhibit); Immigrant Rights; the Solidarity Economy; Right to Water; and Poor People's Economic Human Rights. Cultural performances were offered all day on a nearby stage.
The four-day event closed with a People's Forum, during which numerous resolutions were considered, plans for regional forums were announced and several new initiatives launched. Among the new projects is a US Solidarity Economy Network (http://www.transformationcentral.or...), organized with the support of Solidarity Economy activists in Canada and South America (some of whom are working under the umbrella of the Alliance for a Plural, United and Responsible World); and a National Alliance of Domestic Workers.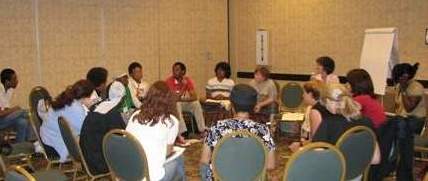 The Charter of Human Responsibilities at the USSF
The Charter of Human Responsibilities was visible at the USSF in two Charter workshops and also participation of four Charter Committee representatives in multiple events throughout the four days.
On Friday morning, Nina Gregg (US), Fabienne Presentey (Quebec/Canada), Cecile Sabourin (Quebec/Canada), and Maria Humphries (New Zealand/Pacific) led a workshop on Using the Charter of Human Responsibilities to address border issues, human rights and responsibilities.
We introduced the Charter, described the different ways responsibility is understood in our respective countries and explained how each of us is using 'Responsibility' to promote reflection and action.
An exercise designed by the Canadian team invited participants to trace the conditions of production and consumption of ordinary foods – where they cross borders, the border policies that have an impact on the food, its producers, consumers, and the environment – in the context of responsibility.
The Pacific Charter Committee's understanding of responsibility as "Response-ability" was an effective concept for engaging everyone in a discussion of our 'ability to respond,' overcoming the tendency to feel powerless when confronting national and international practices and systems.
A lively discussion followed about what 'responsibility' means in relation to the food we eat, and how border policies would be different if they addressed responsibility for human well-being.
A second workshop sponsored by the Charter was led Friday afternoon by young cultural workers from Tennessee. Youth Cultural Workers Unite! was designed by five teens who are participants in the Theatre Renaissance for Youth Ensemble (TRY), a program of The Carpetbag Theatre. TRY Ensemble members were introduced to the Charter of Human Responsibilities and the Charter of Artists Responsibilities several months earlier, and had been discussing their responsibilities as youth cultural workers. The workshop used cultural forms such as chanting, song, story telling, movement, and video to engage 30 participants in reflection on institutionalized oppression, our responsibilities, and their personal life stories.

Building relationships
During the USSF we initiated conversations with the Earth Charter US, with the organizers of the US Solidarity Economy Network, and with leaders of organizations working for environmental, racial, and economic justice.
Beginning in August, meetings will be held in Knoxville to bring together USSF participants from the region to reflect and build on the Social Forum experience.