Τ-R-E-E-S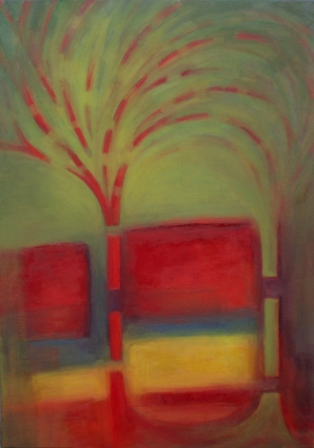 Description of work
Trees, our planet's breath…
Two trees cut up in pieces and deficient, full of incomplete gaps, the one resulting from the other, penetrate to each other, in a need for a natural… equilibrium.
The one: red, artificial, a human deed… (that may symbolize the human being itself), sliced and denuded, however structured dynamically, emerges, trying to enter in orbit with the natural (green tree), to synchronize with it, in a circular, harmonious course.
Artist Biography

Elpida Iatrou was born in Ioannina, Greece, in 1974. She studied painting and sculpture at the School of Arts of Athens, where she also followed the workshops of photography, scenography and mosaic. She has displayed her work in 4 individual and various collective exhibitions in Greece. She has prepared the costumes and was responsible for the scenography in various theatrical shows.
Contact for information :
Tel.: +30 - 6946 98 17 17
e-mail: eliatrou Yfa panafonet.gr