Reflected Caraiva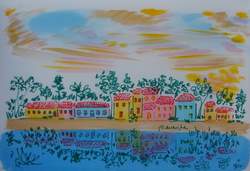 Acrylic and others on synthetic sail-cloth
60 cm x 50 cm, 2007
Description of work
This painting shows images reflected in the water, one of the most familiar subjects of the art of painting.
The canvas shows the houses of the people of Caraiva, a small village in the south of Bahia State, Brazil. "Caraíva" in tupi-guarani language means : One that eats men. These charming fishermens' houses are a good example of the houses that couldn't escape from modernism, that in Brazil was destructive for the old and popular architecture and its harmonic and simple way of life. I want with this painting to point out human values in great danger.
At the same time, the painting was painted on a new material, a synthetic sail-cloth, which I am using for the first time in paintings. I believe that this will be the canvas of the future.
Artist Biography

With residence, studio, gallery and Foundation Project in historical Tiradentes, Minas Gerais, Brazil, Oscar Araripe continues to renew the art of painting, not only through his brushstrokes and original colors, spontaneous and unusual, but also the materials he uses, such as synthetic canvas (nautical sail) and tubular structures for frames and support, which permits him to exhibit outdoors permamently and directly to the public. Also greatly appreciated are his pen and ink and drawings on tracing paper and laser film. Currently the artist is writing My Life as a Painter, already with 90 chapters available on his site www.oscarararipe.com.br
Contact for information :
oscarararipe ELS oscarararipe.com.br