The US Social Forum took place in Atlanta, Georgia from June 27 through July 1, 2007. This was the first Social Forum to be held in the US. The WSF International Coordinating Council approached Grassroots Global Justice (GGJ) in June 2003 to develop a planning process for a US Social Forum. After several years of investigating how a USSF could be organized, GGJ launched the USSF Planning Committee. Atlanta was chosen as the host city for the USSF because of the significance of the US South in our nation's history of oppression and resistance.
"The roots of oppression, injustice, exploitation and social control run deep in Southern soil. The US South has also cultivated determined and consistent fights for indigenous self-determination, black freedom, working class emancipation, and human liberation. Hosting the US Social Forum in the US South builds political potency for a powerful movement to challenge white supremacy, imperial domination, worldwide genocide, ecocide, and all other manifestations of global capitalism.
(from the USSF website)
In 2006 regional Social Forums were held throughout the US. Voluntary national and regional committees have formed to focus on Program, Logistics, Culture, Communication, Outreach, Healing, Health & Environmental Justice, Youth, Women, Resource Development, Language Access and more. Twenty-thousand participants were expected to take part in over 900 workshops and presentations, and six plenary sessions focused on Gulf Coast Reconstruction in the Post-Katrina Era; War, Militarism and the Prison Industrial Complex; Indigenous Voices: From the Heart of Mother Earth; Immigrant Rights; Liberating Gender & Sexuality: Integrating Gender and Sexual Justice Across our Movements; and Workers' Rights in the Global Economy.
According to USSF organizers, _ The US Social Forum is more than a conference, more than a networking bonanza, more than a reaction to war and repression. The USSF will provide space to build relationships, learn from each other's experiences, share our analysis of the problems our communities face, and bring renewed insight and inspiration. It will help develop leadership and develop consciousness, vision, and strategy needed to realize another world.
The USSF sends a message to other people's movements around the world that there is an active movement in the US opposing US Policies at home and abroad.
We must declare what we want our world to look like and begin planning the path to get there. A global movement is rising. The USSF is our opportunity to demonstrate to the world Another World is Possible!
(from the USSF website)
We thought carefully about the opportunity the USSF would provide to introduce the Charter and to promote reflection and action on responsibility to many people representing a wide range of social justice issues across the US. The planners of the USSF have a strong commitment to the cultural component of organizing for social change, and this led us to think about partnering with cultural workers. Inspired by the street dialogues in Brazil and the World Alliance of Artists, we developed a project that would bring young cultural workers from The Carpetbag Theatre to the USSF, where they would share their creative expressions of responsibility and convene a discussion around "What are our responsibilities as artists?". This project has already been met with enthusiasm from other organizations working with youth artists (musicians, poets, visual artists, actors, dancers and more). We actively raised funds to cover the expenses of bringing these young people and their adult allies to Atlanta for five days. The work these young people did to prepare for the USSF also influenced their design of a workshop and performance for a youth theater festival on June 22.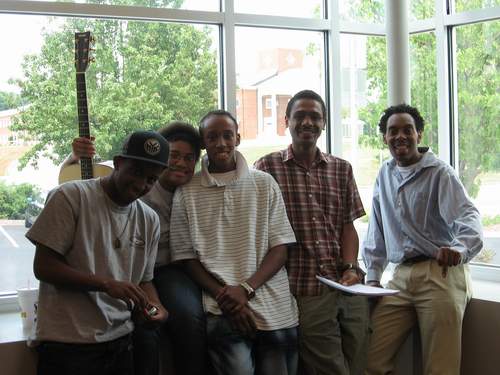 A second presence for the Charter at the USSF was also planned. In an effort to begin working regionally (across North America), the US Charter Committee partnered with the Canadian Charter Committee and the New Zealand/Pacific Charter Committee to host a session on "Using the Charter of Human Responsibilities to connect border issues, human needs and human rights." Click here for the full description.
We also made contact with many other groups during the USSF and identified partners for future projects.