Resume
Charter activities in New Zealand are focusing on water. At a series of forums and meetings those with a focus on environmental responsibility emphasise water as a public good. Information given by activists and NGO's track the 'commodification' of water, through various pressures for privatization and management through resource allocation and lease rights. The NZ Sustainable Water Programme of Action is managing water in the context of multinational trade agreements such as GATT, which require regimes of property rights to facilitate trade. The emphasis in New Zealand is often on water quality, where-as Australia has a critical water shortage from drought, and so water supply is the main issue.
Report
The Aotearoa-New Zealand Charter committee decided to give priority to Responsibility for Water. At the Charter International Committee meeting in South Africa, when we made plans for regional activities, the Asia Pacific group, with Pinky (Philippines), Sudha (India) and Betsan (Aotearoa-NZ) decided to investigate working on a Water initiative. Yfeng (China) is included in our email list.
As part of the follow-up, it is important to be involved in local water forums. There was a water conference in October, in Wellington, at the University. There were presentations there on an approach of our relationship with water, and responsibility for land management systems. Part of being in relationship with water is to know our stories of how we have treated rivers and waterways. The quality of water is closely related to health and quality of life.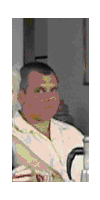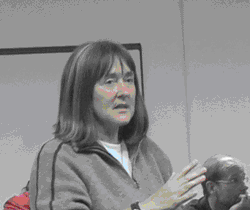 An Aboriginal barrister and activist, Tony McAvoy, who is working with the Australian Charter partner group, spoke on Aboriginal water rights. Australia is in conditions of serious drought, and Aboriginal communities are engaging with water allocation rights – even though this is not a traditional system of guardianship of water.
At the moment New Zealand is going mad on sustainability and there is a lot of activity on water, especially in relation to the government Sustainable Water Programme of Action. The three main areas in this programme are: 1. improve the quality and efficient use of water 2. Improve management of undesirable effects of land-use on water quality 3. Provide for increasing demands on water use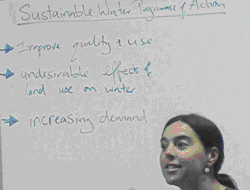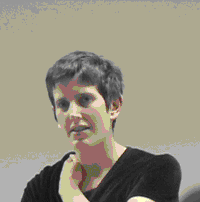 An NGO meeting was held to discuss this Programme, with the main concerns being the privatization and corporatization of water, and advocacy for water to be under the control of elected bodies. NZ is the only country in the world where water is managed through public-private partnerships, which facilitates profit interests and tradable water rights and compromises the public good value of water. Activists clarified that in law, water is a commodity. In the context of neo-liberal policies, water as a right is used as a justification for privatization.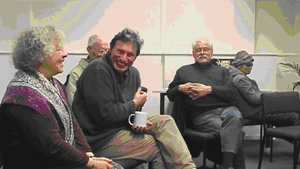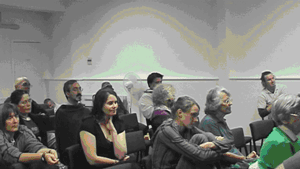 There was repeated reference to access to water as a Human Right, which makes the opportunity to introduce the Responsibility dimension – Responsibility in governance and management, along with the indigenous approach of 'kaitiakitanga', or 'guardianship. Because a legal framework for water allocation is already working it seems difficult to raise the more philosophical dimensions of water – Water as a Commons, which is eloquently argued for by Vandanna Shiva, an approach discredited by others.
At another water forum an analysis was given of the effects of Free trade agreements, whether GATT or other agreements which require the removal to impediments to free market movements. Property rights in water facilitate trade in water resources. There are groups of Maori who are challenging government moves towards property rights in water. In New Zealand, the lease of water rights is managed by local government. A system of tradable water rights is argued as not being a private property right.
Discussion with a Green Member of Parliament highlighted respecting the character and intrinsic life force of natural water systems. For Greens, water is a public good with rights of access to safe water along with the ecological responsibility of sharing water with all species, and prevention of water degradation. The commercial use of water is a pressure point currently.
Actions to take: Prepare a good resource on Responsibility for Water